Microsoft Certified Partner
Evaluates the highest level of competence and expertise regarding Microsoft products.

Microsoft Awards
Microsoft Awards is a competition for certified partners who develop solutions and applications on Microsoft platform and use innovative technologies in implementations for their customers.

President's Club
Microsoft President's Club is a prestigious award for Microsoft Business Solutions partners around the globe, awarded for the above-average sales, dynamic business performance and a high level of innovation in deployed customer solutions.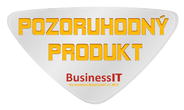 Remarkable IT product
A list of remarkable IT products is annually published by BusinessIT.cz magazine as a part of the special edition - Top Trends, Products and Services in IT for the upcoming year.