The latest version of NavSherpa for Dynamics NAV 2016, 2017 and NAV 2018 is here!
We have just released the latest version of NavSherpa! It is packed with new features to make it even easier to work with documents in MS Dynamics NAV.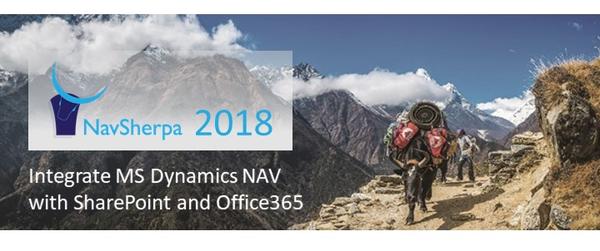 After six months of intense development, we are honored to announce that the latest version of NavSherpa is available as of March 1, 2018! NavSherpa is now ready for Dynamics NAV 2016, 2017, and again Dynamics NAV 2018. At the same time, support for NAV 2015 was also completed.

To date, all the partners have the latest version of NavSherpa for deployment in their own environments, with testing and subsequent implementation for customers. After the partner creates a NavSherpa environment according to their needs, they deploy a demo environment to the customer in less than an hour, thanks to RapidStart technology. There are many scenarios for training and custom deployment, so there's really a wide choice of options.

In the new version, we have strengthened the relationship between NavSherpa and Office 365. We have also deepened integration with SharePoint Online, primarily with Microsoft Flow


In addition to technological innovations, we've introduced some new features in this release:

Navigate Docs
If you like standard navigation in Dynamics NAV, you can trust that Navigate Docs is even better! This feature can display documents not only on the records which you attached the documents but also on tables that are linked to the original records. Compared to the standard "NAVIGATE" function, the relational table list can only be expanded through settings, without the need for program edits.

Smart Tree Visibility
You can now determine whether the familiar Smart Tree appears in a new window or hides and shows only your command. This is very useful especially when you are working on reports with a large number of rows.

New Doc from Template
Now you can create new documents in a SharePoint template and edit their names here.

Print to SharePoint
Print to Sharepoint functionality allows you to redirect any print output from Dynamics NAV in PDF, Word or Excel to SharePoint storage. NavSherpa, when creating a PDF document, respects the user's print settings in NAV.

Access Group Management
This feature is used to bulk-set access rights for user groups, which can be assigned to different MS Dynamics NAV records.

Automated Deployment
Previously, thanks to the NavSherpa module, you could automatically create document libraries on SharePoint. From now on, you can create entire sites, columns of pages, lists, and libraries. All this with just one click of the mouse!



Visit NavSherpa at www.navsherpa.com