Project manager on the road
For many project managers, remote IT management has become a common practice. This is especially true for more straightforward implementations in a flexible environment. Is it possible to introduce this trend into the area of large projects such as ERP systems implementation? Does it make sense to fight with, for the typical, rigid and conservative environment? In this case, what wins? The desire to try new things or to wager on a proven classic?
Mobile office – a recipe for a turnover inside a project team?
At a time when the wheels of globalization are spinning at full speed, distance cooperation has become a matter of fact. There are several technical solutions to support mobile offices, the time saved is of extraordinary value, and the effort of companies to get the most out of the territorial advantages of economic and local character is not the hottest news anymore. Adding concepts such as efficiency and flexibility, which must not be absent in the jargon of any proper manager, gives us a list of ingredients that make the concept of "collaboration at a distance" more common.
Apart from the many benefits of teleworking for companies operating in different market segments, this also offers one crucial opportunity for us - project managers. The combination of a passion for travel and getting to know new places does not necessarily mean repeated turnover thanks to the mobile office. According to a survey by CV-Library (2017), almost three-quarters of employees believe job-hopping has become more socially acceptable in recent years, not to mention the approach of millennials or Z-generation. One of the primary motivations for the exchange of jobs for this target group is the need to change the environment, to try something new, to depart from the stereotype. These people are looking for flexibility, and the notion of a flexible work environment is taking on a whole new dimension in the context of mobile office and remote collaboration.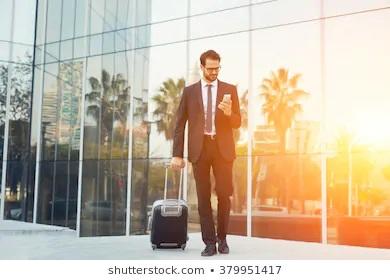 The tools facilitating remote cooperation
So what specific tools and applications will help the project manager on the go to replace the team leadership classically? Apart from the e-mail client, remote communication applications are a key tool for remote collaboration. Easily accessible applications such as Zoom and GoToMeeting are increasingly popular in this area. These can be purchased for a favourable monthly fee, which will give you very decent comfort for a team discussion including picture, sound and chat. The basic versions of both Zoom Pro and GoToMeeting Starter offer users comparable options at nearly the same price. Zoom Pro with up to 100 attendees capacity does not limit teleconference time, provides standard tools such as screen recording or sharing, offers common administrative features related to attendance management, meeting statistics, and 1 GB of cloud storage to store a recorded meeting. A web, mobile and desktop client is available. In its Starter version, GoToMeeting offers communication for up to 10 subscribers, similar teleconferencing capabilities, but cannot record calls and collaborate over a shared screen, available from a later version. You can use the web, mobile and desktop client in this case as well.
Another tool that should not be missed in the project manager's arsenal is an application for teamwork planning. If we are looking for help for straightforward planning and organization of work, not sophisticated planning for limited capacities, tools inspired by the Kanban concept, for example, can be used very well, although we do not want to lead the team in an agile way. At the same time, it should be noted that managing the development team remotely; it is not entirely worth thinking about a more intensive form of incremental development, which is perceived as part of agile management. Products such as Trello or Wrike will also serve well in this area, even profiling as a tool supporting the modern form of remote project management. Individual applications compete over time in a range of features provided for users. Both products include tools such as time tracking. In this case, before the final selection, it is advisable to test the individual applications and draw the product philosophy and form of processing chosen by the manufacturer. For a basic idea, you can use independent comparators Capterra or GetApp. Indeed, you will not make a mistake with any of the products mentioned above.
Of course, many other sophisticated products and mobile applications can be used to make teleworking more efficient or more enjoyable. Cloud storage closes the quartet of key tools alongside the mail client, teleconferencing tools, and teamwork assistant. We are not looking for the most appropriate variant of a sophisticated DMS system, but a service that allows users to store and share files with other team members using file synchronization. The basic parameters to be addressed are undoubtedly the amount of space, the ability to version documents, data encryption and average synchronization speed if need be. There are also three, apparently the most frequently inflected products: Google Drive, Microsoft OneDrive and Dropbox. Each of them offers free gigabytes units in its "free license" and comparable pricing conditions for renting space of the size of terabytes. The main advantage of Google's storage is its consistency with its other products, support for versioning and encryption of data during transfer and on the storage itself as well.
Similarly, Microsoft OneDrive boasts an advantage in connection with the MS Office suite. However, it should be noted that it offers to version only for MS Office documents and data encryption during transmission, not on the data warehouse itself. Dropbox is considered to be a very intuitive tool that allows file versioning and data encryption during transfer and storage.
The most crucial step at the end
It might seem that your experiment of remote leading of a project team is no longer hindered. You do not mind trying new things, and you believe that this unearthly form of cooperation can work in your case. You have a clear idea of relevant tools and applications that can significantly boost the success of the concept. However, as a project manager, you have to think first and foremost of the key factor in managing any project - people. The change in the form of cooperation significantly affects the daily routine and working habits of individual project team members. As with the implementation of agile project management, it is tough to get a positive outcome without the willingness and effort of those involved. In this case, there may be undesirable consequences in the form of reduced output quality, reduced team communication or slower pace of work due to delays in solving the links. Such aspects may result in unsuccessful implementation or postponement of the project. In order not to leave behind good ideas and poor execution, it is necessary to communicate openly with all project team members about this possibility. Finally, it is essential to evaluate whether a possible conservative setting of your team or a different philosophy of your company does not represent an obstacle. In other words, if you are ready to lead the project team remotely, make sure that your surroundings are prepared as well.
Project management and remote collaboration is a tempting idea that can bring many benefits not only to your working life. If you are not just an ordinary consumer of traditional project management, this approach can be a new motivation or challenge for you to take your professional skills a bit further and make your work results a little more satisfying.
Ing. Jan Špatenka
Project Manager
NAVISYS s.r.o.