The new version of Microsoft Dynamics NAV 2016 is on the market
As of October 2015 Microsoft Dynamics NAV 2016 is available on the market including a Czech localized version. This new version comes with plenty of efficient improvements and attractive news for users. The producer has once again pushed the boundaries regarding the speed of implementation, ease of orientation in the user interface and also strengthened support for your business ambitions.
Cloud support
Business Solutions NAV 2016 naturally supports connections with CRM Online and also Azure SQL, thereby increasing overall support in the cloud environment. A very useful building feature is the "Extension" platform, which can be installed into any already deployed Dynamics NAV, and without the need to upgrade the existing settings.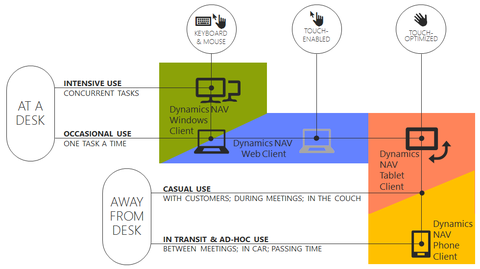 Client
Thanks to the new "Universal app" you can enjoy the full potential of Windows 10. The web client is now built to accommodate the customized device on which you are working. A new feature is the complete NAV environment for your tablets and phones, and you get the opportunity to use new innovations such as recording photos directly onto incoming documents and integration with navigation functions.

The web client has been further improved in more than 60 ways and thanks to which you now have the ability to:
Scroll in the application
Hide undesirable fields using the "show less" feature
Change company requisites on the web client
Switch between the company / language / time zone /
Take advantage of the drop-down search immediately while typing.
Automated Testing
A very useful tool for automated testing is now available for partners and their customers.

Document Management
The new version offers improvements in finance and document management features. The OCR feature, which is directly integrated into incoming documents, enables the electronic receiving and sending of documents, including confirmation that the customer has received the document. OCR also automatically filters important data from incoming documents and is subsequently processed in the system.

O365
The new version has further deepened its integration with Office 365 and also with the Power BI tool.

Workflow
Thanks the Workflow feature, which supports management and automates business processes, we can build new simple procedures and customers can subsequently adapt them.

CZ Localization
Dynamics NAV 2016 is the first version where the Czech localization was released simultaneously with worldwide version. Thanks to Microsoft Dynamics NAV 2016 you can improve the overall performance of your enterprise system.