Microsoft SharePoint
Microsoft Sharepoint is a unified platform that facilitates collaboration among employees. Microsoft Sharepoint allows you to electronically manage documents, to share and search for information, and to design and manage workflows. It also offers the possibility to create intranet and internet sites that can operate on the principle of social networks. It provides benefits in the form of constantly updated data, which then provides a basis for top management decision-making.
In general

The current version on the market is Microsoft Sharepoint 2013. There are 3 editions: Foundation, Standard and Enterprise.


MS Sharepoint functions on a single platform for all departments and all employees. Due to its simplicity, clarity and its friendly Microsoft Office environment, users do not waste time with lengthy trainings. The main benefit is the flexibility of the solution. Based on your defined requirements, the perfect solution is implemented precisely as you want. It contains a number of perfect goodies, such as setting permissions for users, the integration of the approval process, corporate social network, entering and checking tasks with subordinates, integration with Microsoft Outlook.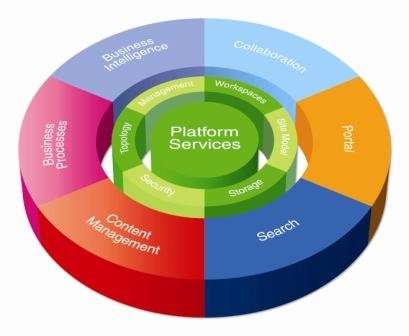 Design and Administration
Documents (DMS)
One of the main functionalities of SharePoint is document management. Employees can share all data electronically, thereby creating an important information base for the entire team. You can easily find out who the author of the document is, who edited and approved it, and when it was issued. This form of cooperation helps the team to increase their productivity through efficiently accessing necessary data in one place and it accelerates the approval process. SharePoint allows you to create structured documents based on predefined forms / templates. Each employee can set the permission level for the area in SharePoint or on a single document.

The approval procedure
Workflow in SharePoint allows you to create a work schedule. Each task has a person who is responsible for the task. The tasks can be worked on by many people. It assigns deadlines and management only checks whether the task is completed on time or not in the form of notifications. Nintex Workflow complements the SharePoint platform with a tool to manage complex workflows. Current and sometimes quite lengthy processes can be solved with just a few clicks. Purchase orders, holidays, overtime are all approved using Nintex Workflow.

Intranet portal
(company social network)
Another advantage of SharePoint is internet and intranet sites. The intranet portal works like a social network where you can search for employees to create communities based on departments or teams. You can quickly find out what the employee is working on, a summary of their tasks, at what stage of development their project is at or inform you in detail about their function in the company or their personal interests. There is also the opportunity to connect internal staff with external experts if necessary for cooperation. To prevent the leakage of sensitive data, simply set the right external employees and this allows login access for data sharing.

BI solutions
Microsoft SharePoint is a Business Intelligence tool. It allows you to edit and publish analyses, reports and interactive charts. With the help of these features you can follow the evolution of trends. The integration of products made by Microsoft Office allows users to share tables directly from Excel, the same is true for graphs even when they are displayed through a web interface, changing its form when changing the source of information. You can create key reports which prevent you from making bad operational decisions.

Business Portal
Sharepoint meets the demands of the sales department. It keeps records of customers who need regular contact and can make arrangements for meeting them. These are tasks that have a specified recurrence pattern. Before the appointment approaches you receive notifications regarding uncompleted tasks. In this way the employee or their superiors can check the performance on their tasks. Another important area for the sales department is adding contracts, offers, inquiries, orders and invoices for each contact.

Electronic registry
Microsoft Sharepoint works like an electronic registry. All documents which need to be registered are simply scanned and inserted into the system. Whoever you want (and whenever you) can then open the documents without the need for actual physical contact. When you insert a scanned document to a specific directory (e.g. invoices) you receive a notice about the responsible person who then approves them without the need to physically have the documents in hand. After approval it is forwarded to the next accounting department. When you search in SharePoint using specific filters you can always find the required scanned document and the details of the corrections to it as well as its accounting details.

Project portal
Keeps all projects under control. Microsoft Sharepoint organizes projects and tasks, lets you share all emails and team member time schedules as well as documents related to the project, and all in one place. It sets the authorization of subordinates. It provides information about the changes and insertion of documents and also the fulfillment or failure to execute tasks according to the set deadlines. Information is shared within the teams and is recorded here with full details of the changes made.