Employees at Cofely will be using Microsoft SharePoint for their company-wide intranet
Cofely a.s. is one of the leaders in the energy field and offers comprehensive energy solutions. Among its customers are industrial enterprises, construction and development firms, administrative and operational centers as well as operators of energy infrastructure. In autumn 2014 the company decided to issue a tender for the acquisition of a company-wide intranet and a solution for document management as well as team collaboration. NAVISYS won the contract and the project was launched in January 2015.
Cofely had been looking for a platform with a user-friendly environment for creating a company-wide intranet, public and shared information, document management and collaboration. The existing intranet solution had long proved unsatisfactory, so Cofely decided to ask a specialized contractor for help. Based on positive references from the energy sector and the corresponding compliance, they chose NAVISYS as their supplier. Since June 2015 the solution based on Microsoft SharePoint performs functions not only for document management, but is also an effective tool for business communication.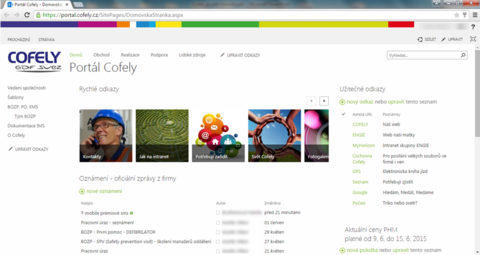 Cofely is a provider of comprehensive energy solutions and energy services. With its 400 employees the company provides services in project and energy consulting, electrical installations in the industrial and energy sectors , smart building technologies, realization of investment units, engineering, industrial automation, facility management and services leading to more efficient energy management. It is part of the French group ENGIE.