Remarkable IT product
A list of remarkable IT products is annually published by BusinessIT.cz magazine as a part of the special edition - Top Trends, Products and Services in IT for the upcoming year.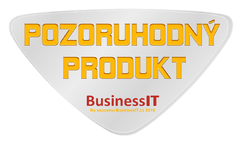 The first original product of NAVISYS NavSherpa received the Remarkable IT product of the year 2018 award.
The prize is annually awarded by the BusinessIT.cz magazine which chooses interesting and user-friendly IT products which differ from the competitors' solutions. Awards are given to products offering truly interesting functional features, notable benefits, while also having an interesting price / performance ratio.

Award-winning remarkable IT products are evaluated in three categories:
Information Systems
Business Support
Communication Solutions.

The NavSherpa integration module received an award in the category "Information Systems".