Microsoft Dynamics NAV
Microsoft Dynamics NAV is an enterprise information system designed to manage key processes within the company. It allows users to get a more detailed overview of what is happening in the company through a wide range of reports, automates processes related to finance, sales and marketing, production, warehousing and supply, and a lot more. The ERP system Microsoft Dynamics NAV is designed for medium-sized companies that are looking for a software solution that excels in its simplicity, flexibility and intuitive user interface.
In general

Microsoft Dynamics NAV was formerly known as Navision. It was the product of a Danish company, which was later acquired by Microsoft, and this eventually led to what is now the Navision Microsoft Dynamics brand.


The worldwide launch of the new version of Microsoft Dynamics NAV 2013 was on 1 October 2012. This solution is full of many new features, whether it is the transition to a three-tier architecture which provides significantly higher performance or the deployment of BI tools (links to Microsoft Excel 2013 or Microsoft Sharepoint).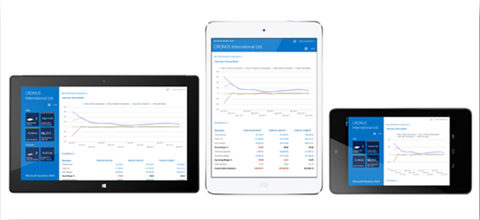 Microsoft Dynamics NAV is ideal for international organizations with multiple branches. It lets you cover varying needs regarding multiple operations while integrating data all in one place. With the mobile application MobileNAV you can use remote database access and have updated information on sub-processes whenever you display data on your Smartphone or tablet, and in this way you can make the best decisions at the right moment. More about mobile application.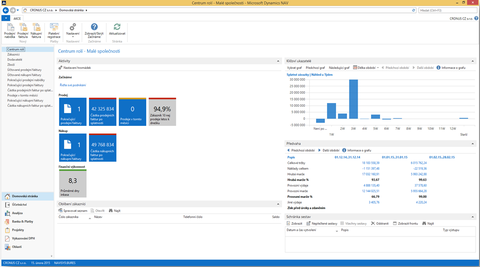 Sales and marketing (CRM)
The Sales and Marketing module manages the contact segments on the basis of determined criteria. These can be nationality, line of business, customer segmentation based on the ABC method. It allows you to create interactions in contacts with call records or correspondence. Of course there is the possibility of attaching the extensions .txt or. xls to the contact file. Contacts and information contained in Microsoft Outlook can be easily synchronized with Microsoft Dynamics NAV. This provides the sales department with data for the creation of in-depth analyses.

Financial management a controlling
The powerful financial management and controlling tool covers all financial management throughout an organization. It effectively provides the most important data from the chart of accounts, budgets and cashflow, which can be used to monitor the financial health of the company. It manages the general ledger, accounts receivable, accounts payable, inventory, fixed assets, and cash flow. For tangible assets it can capture the entire life cycle from acquisition to liquidation. By combining Microsoft Dynamics NAV with Microsoft Excel it can assist in creating reports according to your requirements. With this functionality, you have complete control over the financial situation in your organization.

Management and planning production
This module automates processes from ordering through to production, warehouse management and even to delivery. It creates a material inventory, calculates product costs, improves inventory management and oversees supply planning. With the integration of important information it can flexibly respond to changes and have updated information about open capacity. This makes it possible to obtain new business opportunities.

Projects and Services
This is for managing current and planned projects, comparing the actual and projected costs, which can easily determine whether the project is profitable or loss-making. The project manager has access to data, reports and alerts to guarantee the timely completion of the project in accordance with the contract schedule. Managers have access to data and reports, enabling them to coordinate the work of their subordinates through tasks in Microsoft Dynamics NAV, thereby giving an overview of the project and ensuring its timely implementation. This module monitors service contracts, records the consumption of parts per order, contracts with customers and provides a complete overview of costs and revenues.

Warehouses and supplies
This module is intended for warehousing and supplies, covering all processes of inventory management, purchasing, production and distribution and thus creates technology that optimizes processes by reducing costs, improving communication and collaboration with business partners and generates relevant reports to ensure the speed and accuracy of decision-making with respect to changing conditions. Recent times require lower prices, faster processing and higher value-added services. Combining Microsoft Dynamics NAV with RFID technology creates the perfect combination with minimal effort.

Payroll and Human Resources
This HR module records all employee information, including information such as formal qualifications, required and completed medical examination, type of employment, demands for work related aids and assistance, attendance records. All contracts with employees can be stored in electronic form on the employee card. The wages module is based on data collected on employees and deals not only with wages, but also output statistics, electronically communicates with the Social Security Administration, health insurance companies or pension funds.

Technology
Microsoft Dynamics NAV works on modern three-tier architecture. It provides heterogeneous access (Windows client, Web client and SharePoint client) to the application-layer and database server, increases the theoretical performance and makes it easy to upscale the resulting solution. Dynamics NAV provides tools for Business Intelligence and uses the latest technology, Microsoft SQL Server.