Microsoft Dynamics 365 Business Central
Dynamics 365 Business Central is a complete cloud ERP solution for small, medium and even emerging businesses that automates and simplifies the management of your business. Businesses are then able to link workflow across finance, purchasing and sales, services, and operations to streamline business processes, improve customer engagement, and make better decisions.
In general

Microsoft Dynamics 365 Business Central is a comprehensive cloud-based enterprise solution that enables businesses to link business process management and save time for their employees. It provides advanced automation of workflows using well-known tools including those from the Office365 family. Business Central can boast a great deal of flexibility and with the easy configuration and adaptability of the application to unique needs, it can quickly begin to achieve high growth rates and adapt to external conditions in real time.

A simple ERP in the cloud
The growing use of cloud services plays a key role in the digitization process. Companies of varying scope and size can benefit from the fact that modern cloud platforms provide intelligent data processing and advanced automation. Dynamics 365 Business Central is a proven international Microsoft Dynamics NAV solution that is built as a complete cloud complex ERP system. The solution offers all the benefits of SaaS (software as a service) as it eliminates initial infrastructure investments, implementation problems, and maintenance of on-premise solutions. It also provides a high degree of scalability and mobility.

Areas
With Dynamics 365 Business Central you have everything you need to manage or even start your business. It enables finance management, sales process management, project planning and budgeting, automation within the supply chain, and warehouse and production management.
If you need additional functionality, it is possible to install so-called Extensions developed by Microsoft's independent partners even when installing applications on your smartphone. If you do not use these Extensions, you simply delete them without affecting the standard application, since Extensions are out of the core of Dynamics 365 Business Central.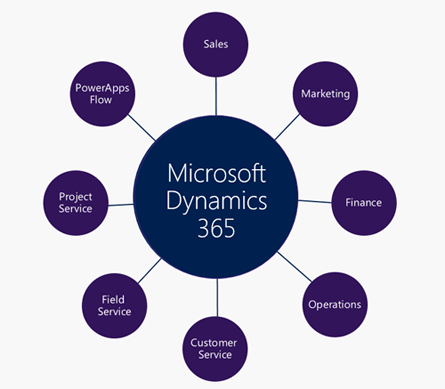 Cloud platform benefits
The cloud platform solution has the following benefits:
a range of features based on Microsoft Dynamics NAV's popular ERP system
easily customizable range of solutions and deployment at any time
always the latest version of the system thanks to automatic updates
100% mobility with an optimized interface for laptops, tablets and smartphones
Artificial Intelligence (AI) for forecasting and long-term planning
a state-of-the-art roll-based user interface
easy integration with applications such as Office365, PowerApps, Microsoft Flow, or Microsoft Power BI

Secure Data
Data security should be a priority on both the customer and supplier's side. Microsoft's cloud-based data centers are certified according to demanding EU privacy standards, and each company has the ability to use selected cloud storage in EU countries, in accordance with Microsoft's data administrator policies.

Availability in the Czech Republic
The complete cloud (online) D365 Business Central is currently available in 19 countries around the world. You can view the actual availability for other regions in the International availability guide. For the Czech market, D365 Business Central is likely to be released in 2019. An alternative option is Dynamics 365 Business Central on-premise, the latest version of the popular ERP Microsoft Dynamics NAV, which has been available in the Czech Republic since October 1, 2018, including Czech localization.