Jet Analytics
Jet Analytics brings crucial company data to a single place and enables users to carry out advanced business analyses in Excel or Power BI fast and easy. With this tool, you will gain high added value from a sophisticated data analysis, without a need to know data structures. Thanks to the preset data cubes and user-friendly dashboards, you can implement and start to use Jet Analytics in a matter of hours.

Jet Analytics is an advanced analytical tool which can be integrated with ERP systems like Microsoft Dynamics. It provides fast, flexible summaries and financial analyses displayed either in Excel or in an intuitive online platform environment. Thanks to the automated adaptation and absence of additional development, you will lower costs and reduce the time demandingness regarding acquirement to an essential minimum.
Created for Business People
Jet Analytics transforms raw data into some commercially valuable analyses of company processes and financial results. With the aid of some visually attractive summaries, you will manage to identify the trends and deviations in your business results fast and in time, thus avoiding problems, which might have arisen because of these anomalies. Analyses are accessible from any mobile device with results examined both online and off-line in summaries. To make it short, you can analyse all your business results from any place. If you collect data and entries from several sources or you save them different places, Jet Analytics will guarantee their centralisation. All users will thus work with the same and always correct data without danger of data fragmentation that would affect your business results.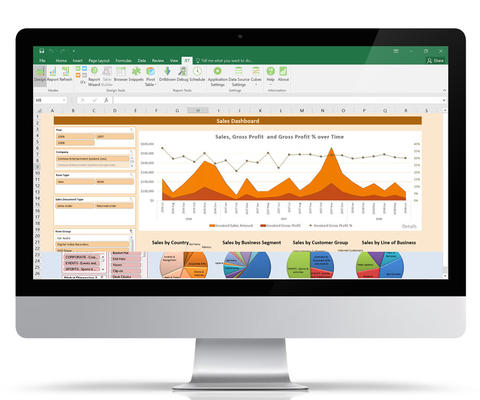 The Advanced Data Analysis Technology
Jet Analytics provides advanced data management – it works with preset data cubes and extensive template library, user dashboards and sets – all of that created directly for Microsoft Dynamics. Also, Jet Analytics technology is designed in a way that does not burden internal sources during future upgrades and adjustments of your ERP system in any way thanks to the automated data migration and unlimited historical data preservation on a single consolidated platform. Jet Analytics integration with hundreds of third parties solutions represents an invaluable integration option. Thanks to this option, you can work will all the information regarding your business in one place.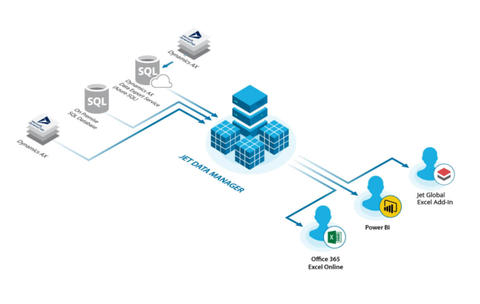 Jet Analytics can be connected to the following applications:
Microsoft Azure, Active Directory, SharePoint & Exchange
Microsoft Excel and all the Office365 applications
Sage
SAP
QuickBooks
NetSuite
Salesforce
Sugar CRM
Google Analytics and many others…