Microsoft Dynamics CRM
Microsoft Dynamics CRM is a complex solution, with which you can effectively work with customers. You will achieve a better level of client relations and gain a superior acquaintance about both existing as well as potential customers. Dynamics CRM helps to reduce costs and increase profitability by organising and automating all the interactions with customers across the whole business process: sales, marketing and service.
In general

Microsoft Dynamics CRM as a solution for customer relationship management focuses on searching for new customers, relationship development with existing customers and professional services concerning entrepreneurship profitability. In comparison with traditional CRM products, we can make use of substantially lower implementation and integration costs, fast process implementation and, with regard to simple adaptation of current settings, also a high user friendliness.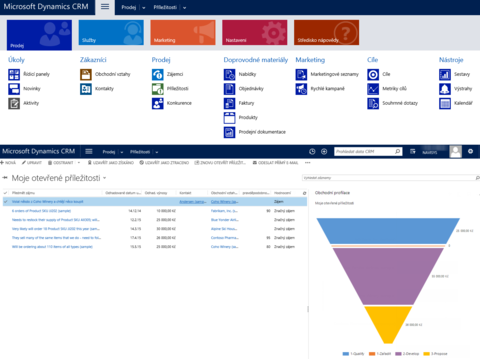 Sales Productivity
Thanks to Microsoft Dynamics CRM, you are always in contact with your existing customers. Because you know your customers and their requirements, you can offer them exactly what they need. Business relationship management is much more effective when you have all the necessary information in one central database. Thanks to such structured and easily accessible data, Microsoft Dynamics CRM provides more straightforward planning and sales activities evaluation, including new contract acquisitions. Sales managers can concentrate on opportunities with the highest potential, acquire contracts faster and increase the gross sales capacity.

Effective Marketing
Microsoft Dynamics CRM application contains many intuitive marketing tools, with which you can assert yourself in the labour market more effectively and achieve higher productivity. It offers a complete summary of marketing activities and enables flexibly working with them. At the same time, it is possible to track marketing investment utilisation. The module allows you to plan efficiently, manage and implement campaigns, budgets, to evaluate the campaign´s success rate and subsequently choose the most suitable marketing tools for further increase of their effectiveness. Apart from creating well-arranged sets and analyses, automatic data clearing and detailed customer segmentation happen as well.

Complex Customer Service
Microsoft Dynamics CRM offers a solution for providing professional services. This solution is quite extensive and sufficiently flexible at the same time so that you can quickly react the changing needs of customers. You can provide complete customer care thanks to the set of sophisticated functions like the automatic routing of requirements, history of provided services, real-time reporting or information about current service workers accessibility. The customer service´s high-quality guarantees, among other things, efficient Service Level Agreement (SLA), service agreement parameters and service cases (contracts).
Accessibility from any Place
Another one of Microsoft Dynamics CRM solution´s strengths is the professional information management about both partners and customers, which can be, thanks to the mobile and off-line access, carried out from any place and immediately.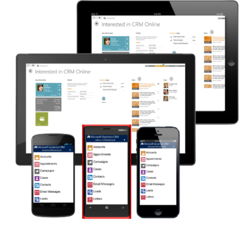 CRM in Social Networks
Microsoft Dynamics CRM interconnects you with your customers via various communication means: call centre, web pages and even social networks. Moreover, social networks tools are directly integrated into the Microsoft Dynamics CRM´ solution and enable companies to react fast and share information across a wide range of customers.